Need more information about this product ? Send us your request :
Cementless straight stem
Material
Titanium Alloy TiAl6V4 (NF ISO 5832-3)
Rought (2µm Ra)
Hydroxyapatite coating (HAC) (NF ISO 13779-2)
Geometry
Low-profile design to help a Reasonable Minimally Invasive (R-MIS) implantation.
Standard version with 132° cervico-diaphyseal angle
Lateralized version with 125° cervico-diaphyseal angle
Medial curve, adapted to different morphologies avoiding post-operative varisation
Anterior and posterior metaphyseal fins to strengthen anchoring
Micro-threaded cone allowing reduction of the stresses at the alumina-titanium surface
Combined with
Every CERAVER stainless steel or alumina femoral heads.
Stainless Steel Femoral Heads
Material
Stainless Steel (NF ISO 5832-9)
Geometry
Combined with
Every cemented (OSTEAL) and cementless (CERAFIT) stem
Alumina Femoral Head
Material
Pure alumina ceramic (NF ISO 6474-1)
Geometry
Combined with
Every cemented (OSTEAL) and cementless (CERAFIT) stem
Standard RMIS: 132° Angle
| Size | References |
| --- | --- |
| 7 | 12 007 |
| 8 | 12 008 |
| 9 | 12 009 |
| 10 | 12 010 |
| 11 | 12 011 |
| 12 | 12 012 |
| 13 | 12 013 |
| 14 | 12 014 |
| 15 | 12 015 |
| 16* | 12 016 |
| 17* | 12 017 |
| 18* | 12 018 |
Lateralized RMIS : 125° Angle
| Size | References |
| --- | --- |
| 7 | 12 207 |
| 8 | 12 208 |
| 9 | 12 209 |
| 10 | 12 210 |
| 11 | 12 211 |
| 12 | 12 212 |
| 13 | 12 213 |
| 14 | 12 214 |
| 15 | 12 215 |
| 16* | 12 216 |
Stainless Steel Femoral Head
| Ø (mm) | Description | References |
| --- | --- | --- |
| 32 | Extra long Neck +8 | 2263 |
| 32* | Extra long Neck +12 | 2264 |
| 28 | Short Neck -3,5 | 2223 |
| 28 | Medium Neck 0 | 2224 |
| 28 | Long Neck +3,5 | 2225 |
| 28 | Extra long Neck +8 | 2261 |
| 28 | Extra long Neck +12 | 2262 |
| 22,2 | Short Neck -3,5 | 2217 |
| 22,2 | Medium Neck 0 | 2218 |
| 22,2 | Long Neck +3,5 | 2219 |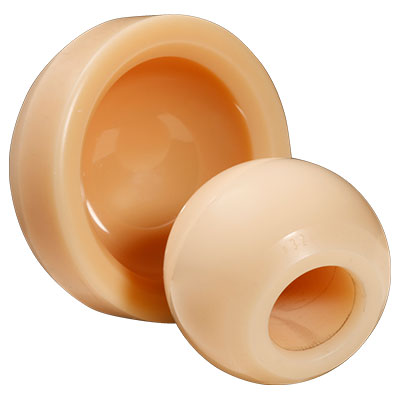 | Ø (mm) | Description | References |
| --- | --- | --- |
| 28 | Short neck -3,5 | 2000 |
| 28 | Medium Neck 0 | 2001 |
| 28 | Long Neck +3,5 | 2002 |
| 32 | Short Neck -4 | 2003 |
| 32 | Medium Neck 0 | 2004 |
| 32 | Long Neck +4 | 2005 |
OTHER PRODUCTS IN THE HIP RANGE